The premium camper for two adventurers
The Roadtrip 595L was designed in collaboration with Mercedes-Benz by one of the premium Dutch yacht outfitters. It is built and based exclusively on the agile Mercedes-Benz-Sprinter L2H2 and designed as a comfortable, luxurious and above all safe premium camper for two people.
With its casual yacht style lounge, the Innova Roadtrip 595L offers a cozy ambience for exciting adventures or just pure relaxation.
Living in style
The interior of the Innova Roadtrip 595L offers the comfort of a yacht in a luxurious and modern motorhome.
During the day you can relax in the curved lounge, beautifully influenced by premium yacht design. The large, multifunctional table allows you to sit comfortably to eat, relax or even work.
For a good night´s sleep
When it´s time to rest, a few simple steps can transform the living room into a comfortable large, longitudinal bed with high-quality mattresses for a good night´s sleep. Privacy is ensured by the opaque blinds installed on all windows, as well as curtains in the driver´s cab.
If desired, a topper, which is rolled into a comfortable backrest during the day, provides additional sleeping comfort.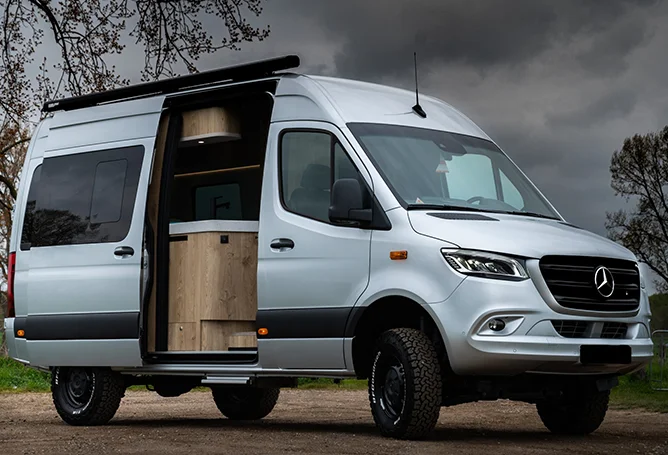 Roadtrip 595L
Taklamakan
Yacht style design variants
Choose between three exclusive design-variants: Wood&Mood, Black&White or Adventure – to completely suit your own personal style.
With yachts it is essential that the interior does not creak or rattle even in rough waters – and we have implemented this for our campervans as well. Quietness in the interior is important for pleasant travel.
All materials used are of course waterproof, easy to clean, shock- and scratch resistant and particularly robust.
Beautiful interior, super finish, long beds and fixed toilet, the whole also "offroad proof".

José Harleman
Innova is a real family business with quality and service of paramount importance.

Peter
We are particularly satisfied with the sleeping comfort of the mattresses and the exclusive finish.

Jos and Marion
After years of searching, we found the perfect campervan for us at Innova.

Melanie Roosken
They do not compromise on quality at all and deliver everything up and running.

Metten Koster
The best motorhome I've ever owned. Perfect workmanship, great interior design.

Walter Schweikart
For us amateur cooks: plenty of storage space for our fully equipped kitchen! And pleasant to really have room in the sink to wash up....

Nicole Meisner
We especially love our cool design concept Black & White. The eye-catcher on every campsite!

Tara Miles
Perfect for the two of us and our dog. We had to get used to the size with the almost 6 meters, but the driving feeling and comfort are really like in a normal motor vehicle.

Irina from Switzerland
We love these thick mattresses and sleep better than at home.

Meike Abrams
We are glad that we finally found a concept where the bedroom does not remain unused 2/3 of the day. Lower the table in the evening, put pillows on it - done. We had sheets made that fit perfectly in terms of shape and color. The bedding disappears into our large lounge pillows during the day. We love our cozy, mobile living room!

Dany Busch

Luxurious finish

100% self-sufficient

Insulated wall & floor

Water-resistant and durable materials

Safety is a priority